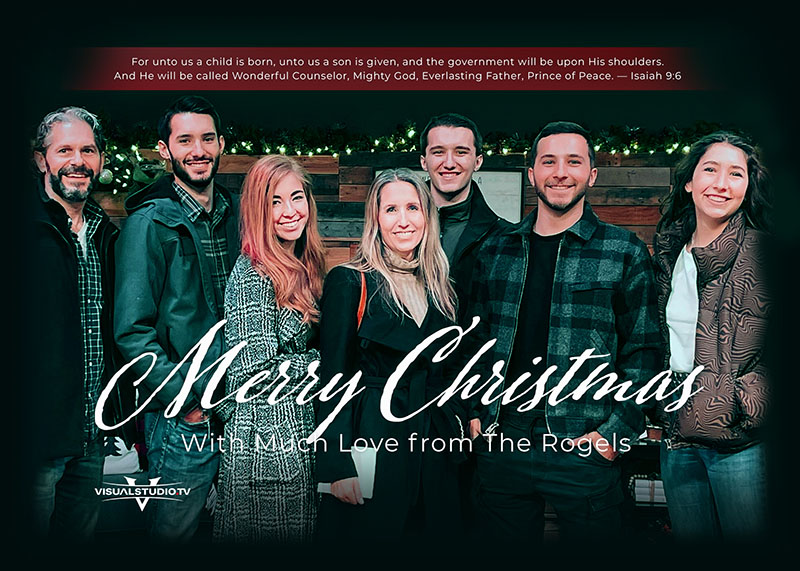 Meet the Team
Pictured in our recent Christmas card, from right to left…
Moriah Jane who serves as our college intern, blogger & illustrator. Moriah currently attends Grand Canyon University where she is studying communications.
Next is Jakin who represents our web-dev, vision-casting, & sales department, Jakin is attending Grand Canyon University where he is working on his Software Development degree. Jakin also works for Yelp® in Phoenix Arizona.
Next to him is Caleb who assists our IT and testing department, skilled at managing hardware and software issues Caleb is currently between colleges studying for his Computer Science degree.
Next to him Diane acts as our Secretary and provides adept financial oversight, she also contributes valuable input during our creative vision casting & brainstorming sessions.
Next to her is our newest addition Anna, she is recently married to our oldest son to her left Boaz. Anna is a graduate of Texas A&M where she received her bachelor of science in Hospital administration.
Boaz is next and has recently completed 6 years in the United States Air Force where he served as a Security Forces Staff Sargent and who notably served our nation as security for Air Force One under President Obama and President Trump. Boaz is attending Grand Canyon University where he is studying Software Development.
Finally Tyler is the President of VisualStuio.tv, inc. and leads all creative efforts while mobilizing agile development teams for our larger projects. You can connect directly with Tyler on his LinkedIn