The Spiritual Litigator
Powerhouse attorney-turned life coach Cheyne Scott came to us seeking a better overall web experience. We used her dramatic photography and branding to create a stunningly simple yet powerful web lead generator for her online coaching goals. We used a proprietary cloud-based VPS hosting solution, WordPress for the engine and connected her podcasts and blog from her prior hosting environment.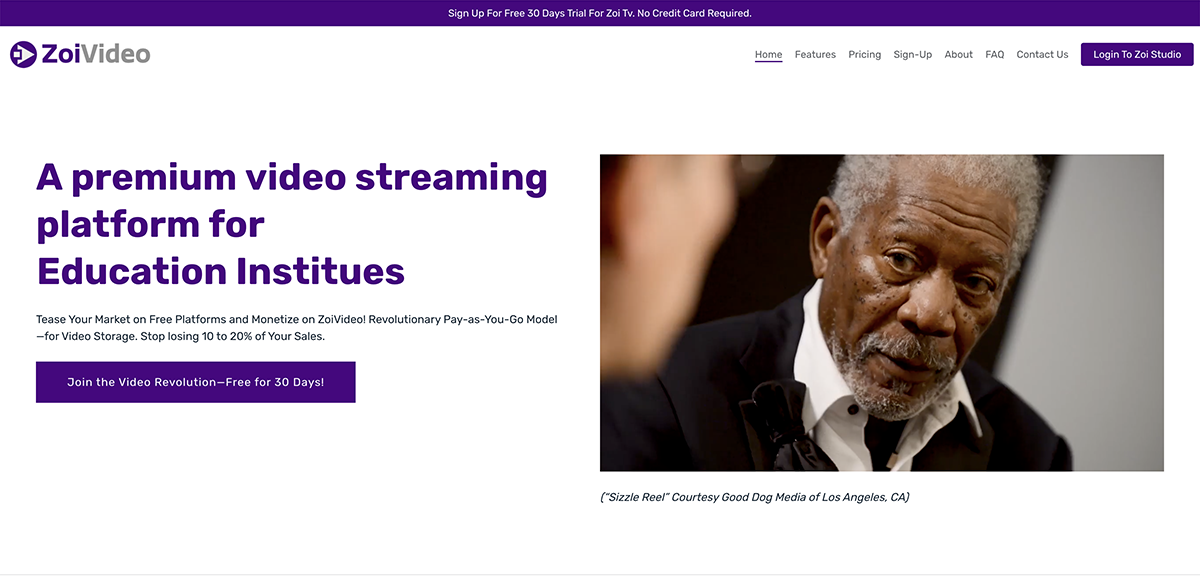 Zoi Video
(NOTE: Currently undergoing design updates) Peyton Enterprises came to us with the need for a online video streaming solution for their LA based dance company "Avila Dance". The difficulty was to be able to offer a video streaming solution that used a cutting edge mirror screen technology. Something that resembles a vertical formatted mirro that would display the instructor "back" video as well as allowing the student to see herself dancing along with.
We developed a cutting edge streaming platform which accomplsihed their goals as well as incorporated a payment processing system, including the ability to accept donations, charge pay-per-view, and manage subscribers and even accept crypto payments.
We used a Proprietary cloud-based VPS paired with a screaming CDN to blast streamed video content across the globe…the result, ZoiVideo.com, a competitor to OnlyFans, DaCast, Vimeo, and other VOD (Video on Demand) services. ZoiVideo also allows users to offer their own branded OTT (Over the top TV) channels for their subscriber base.
Kona Rainforest Coffee
A boutique coffee farm on Hawaii's big island of Kona boasting one of the finest brews in the world, Kona Rainforest Organic Coffee Farm was using Shopify to accomplish their coffee sales goals.
However the owners wanted to have more control over the look and feel and use extensive video. We used a proprietary cloud-based VPS hosting platform to improve speed and assure a secure e-commerce experience. The site is built using WordPress and DIVI, in conjunction with Woo-Commerce and certain security features needed for significant online transactions.
JK Monarch
JK Monarch was in need of a image-heavy website, that was easy to edit and fully scalable. We used DIVI and their existing branding to create an experience that drove leads and helped to generate exponential sales year over year. We used deluxe hosting with GoDaddy to ensure high traffic spikes would be able to handle to load and not result in a critical server crash.
Budinick & Associates
As a global supply chain executive placement firm Budinick & Associates came to us in need of a no-nonsense, clear & concise, speedy site. We used WordPress and paired it with a slightly upgraded hosting environment to accomplish their goals.
Incite Management Group
Incite came to us with a brand new corporate vision. We crafted a dramatic web experience using WordPress and a custom theme. Hosted on a GoDaddy CPanel Standard Hosting, with no added speed boost.
Tesoros Collection
Mexico City Based Tesoros Hotel Group came to us with the need for an exclusive authentic Mexican travel experience site, which would combine partnerships with hoteliers and restaurants to craft amazing and uniquely Mexican local experiences. We used a Proprietary cloud-based VPS hosting environment, with a WordPress engine, and crafted a custom brand for the offering.
Coupling this with our Streaming system at ZoiVideo gives us complete control over our video content. Our partner Mexico city based videographer provided on site exclusive video promotions for the individual experiences.
Lightning Fast
When you combine a powerful wordpress site with a tailored, cloud-based VPS (Virtual Private Server) hosting solution you can achieve dramatic load speeds, and mass outreach capability without the potential of crashing the server when your offering goes viral!
This law firm example site is hosted in this manner – why not take it for test drive, just click the thumbnail to try it out.
Global Reach
Much of our work is web development, from tiny informational websites for small businesses to giant e-commerce, custom scripted, cutting edge, proprietary platforms for enterprise scale, we design, build, and manage the web.
Many of our sites use a platform called WordPress, paired with a "Theme" called DIVI, as shown in this sample dental site seen here…
PAST PORTFOLIO
WordPress is a powerful, scalable, and stable platform, and when paired with a great theme such as DIVI the possibilities are almost endless. WordPress is known to have some security issues so we always recommend a robust hosting platform using firewall technology.
Preview some of our past WordPress work below,
NOTE: Some of these websites may have been replaced.