Better Search Results +
Immediate Response = Broader Engagement.
In the digital space we provide a 3-pronged attack to generate the best results possible for your investment.
SEO or Search Engine Optimization
SEO is the way you build organic search results for your website, little by little, over time. Being the top of the unpaid, or organic search results, means your website will show up just below the paid advertising on search engines.
SEO Services:
We optimize your website to make it easier for your customers to find you. Our Industrial Strength business service begins with 15 keywords for one VERY LOW monthly rate.
What You Can Expect from SEO services:
Improved organic search results, these are non-paid search results.

Your Localized Keywords should attain first page ranking within 3 months*.

Your Regional keywords should attain first page ranking within 6 months*.

Monthly reporting.
On-Page Optimization Work:
On Page Optimization Responsibilities:

URL Structure

Manage Meta Tags(Title, Keywords, Description)

Meta Tags (Title, Keywords, Description) Optimization

Manage Header tag & Optimization

Manage Alt image tag & Optimization

Sitemap Creation

Robots.txt Creation

Keywords density checking

Sitemap Validation

Website Load time checking

Spell Checking

Content Optimization

Hyperlink Optimization

SEO Canonicalization

Link Validation

Checking Broken links

Check duplicate content issue

Internal Link Structuring

Keyword URL Mapping
Off-Page Optimization Work:
Off Page Optimization Responsibilities:
Directory Submission

Comment on blogs

Social Bookmarking

Search engine Submission

Blog submission

Deep linking

Business Listings

Regional Submission
Add Enhanced SEO
which delivers a bit more, including a real-time client dashboard to track your ROI.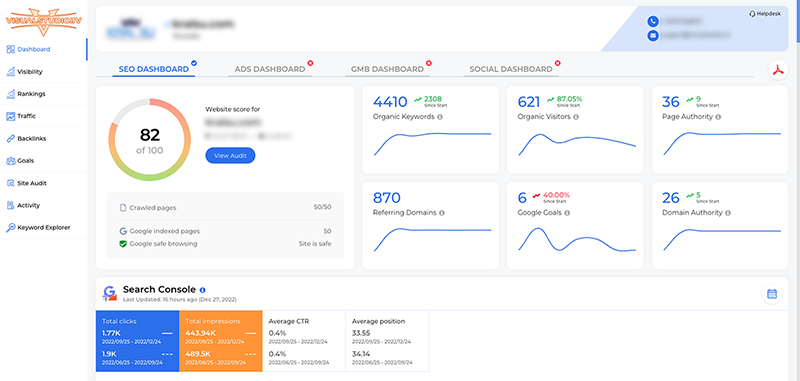 Sample branded real-time client dashboard
PPC or Pay-Per-Click Advertising
PPC is a powerful way to get immediate results using targeted and direct paid advertising on Search Engines. You set the daily budget and we manage the rest. When you need FAST results there is nothing more effective than Pay-Per-Click Advertising Campaigns.
PPC Services:
Pay per click ad campaigns are targeted advertising campaigns that create incredibly quick results for your specific promotions, targeting your specific industry, geographic location, and potential market.
We begin with a daily ad-spend budget that you are comfortable with, create a well-crafted Call-To-Action and then monitor the results to see what's working, testing, and tweaking things to garner even better results moving forward.
How We Manage Your PPC: 
Initial Account/Campaign Setup

Ad Text

Creating new ads to expand your account

Geo targeting Setup

Conversion Tracking

Campaign Management

Competitor Analysis

Initial Estimate Report

Landing Page Recommendation

Testing text to improve CTR

Testing text to improve Quality Score

Testing text to improve Conversion Rate

Optimizing your budget to reduce your CPA

Weekly Campaign Management

Remarketing Campaign

Monthly reporting
SMO or Social Media Management
SMO is a great way to build your brand, creating a buzz about your company or product. Just tell us about your business and we can handle the rest, posting to the top social media platforms to gain social shares, follows, and @mentions for amazing exposure.
SEO Services:
When it comes to social media it's a crazy whirlwind, but give us some periodic content and you can rest easy, "likes" and "follows" will flow causing your business to be seen by more potential customers AND return greater engagement, market exposure, and search results overall.
Causing a Professional-Grade Rukus: 
Creating a Social Media Presence or Administrating Your Existing Account.
Posting once a quarter, month, week, or many times per day.
Using your corporate messaging or allow us to craft well-written messages.
Special Event Social Media Buzz Parties to Build Awareness.
Monthly reporting.
EXAMPLE WEBSITE SERVICES REPORT
Here is what we send to our potential clients as a complimentary service.
See our attached report for an initial review of a web property, enumerating our proposed services and recommendations for service.
Our Real World Results Below:
SEO efforts result in what is known as organic search results, these show up below any paid advertising.
REPORTS:
Here is an example of our monthly reporting.
These are recent results for our own website. (www.VisualStudio.tv)
Local Pumpkin Patch SEO Results
(2 months results)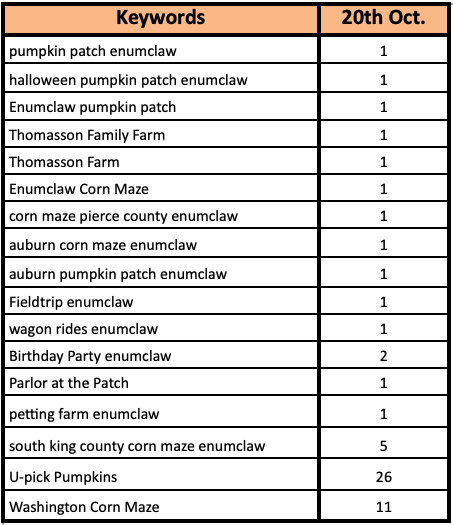 Local Striping Sealcoating Company SEO Results
(3 Years + results)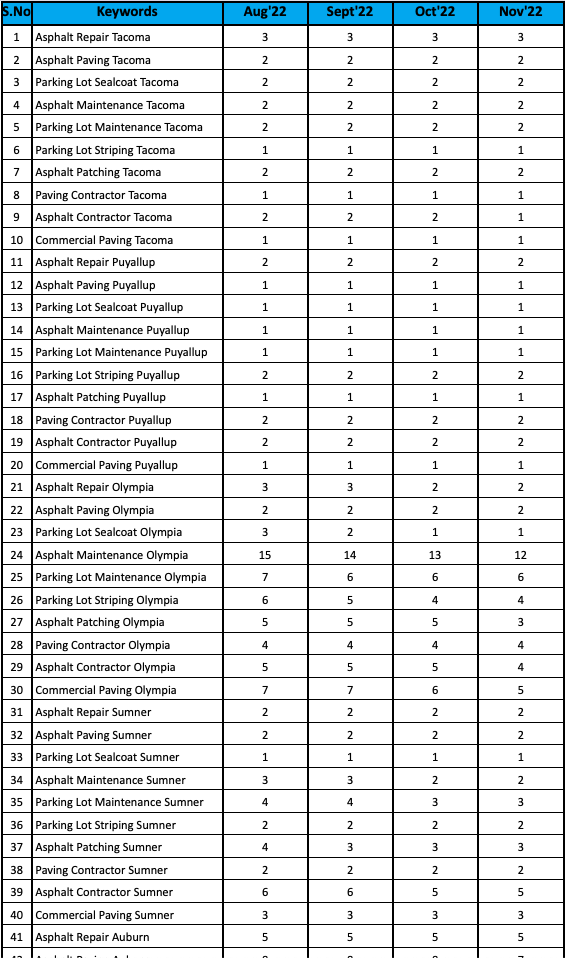 Alaska Vehicle Rental Company SEO Results
(5 Year + results)

Search Engine Optimization Drives Results.
Organic Search is most often the primary source of website traffic – Organic search is a huge part of most business's website performance, as well as a critical component of the buyer and ultimately getting users to complete a conversion.
SEO builds trust & credibility – Many elements go into establishing authority regarding search engines like  Quality back link profiles, Positive user behavior, Machine-learning signals, Optimized on-page elements and content.
Good SEO also means a better user experience –

Everyone wants better organic rankings and maximum visibility. Few realize that optimal user experience is a big part of getting there.

SEO best practices are always being updated – Using SEO tactics to relay your messaging for good deals, groundbreaking products and services, and the importance and dependability of what you offer customers.
Understanding SEO helps you understand the environment of the web – Web including tactics being used by other local, comparable businesses and competitors, will always be beneficial for those brands.
SEO brings new opportunities to light – High-quality SEO will always find new opportunities for brands.
If you're not on SERP (search engine results page), you're not winning the click –

Search engine results pages are web pages served to users when they search for something online using a search engine, such as Google. The user enters their search query (often using specific terms and phrases known as keywords), upon which the search engine presents them with a SERP.
VS – SEO Pro Tip:
When Considering Your Keywords Think Small.
Localized keywords are far more effective than broad and general keywords. For example the keyword "South King County Real Estate", is far better than the general keyword "Real Estate". Use keywords that relate to your specific geographic location or region. Maybe it's a proper name that relates to your products or service, try that to bolster better organic search results, and be sure to add those phrases to your website page or blog.
Finally, Our Fine Print:
VisualStudio.tv, Inc. SEO/SEM/SMO Services are "White hat" (Using ONLY Authorized Tactics), Low Cost, Non-Contractual, and at Wholesale Prices. You may cancel at anytime.
* General keyword results vary greatly, highly competitive or general keywords are ineffective in seeing results, so your local and specific keywords are crucial to your success. Our SEO efforts are cumulative—improving each month, the longer we work on your keywords the better the results. 
Some Interesting Facts:
Of all internet users aged 16 to 64 years old,
as of July 2020…
Searched for a product or service online. (Global Web Index July, 2020)
Visited an Online Retail Store, Any Device. (Global Web Index July, 2020)
Purchased a Product Online, Any Device. (We Are Social – July, 2020)