TV Is Dead, Long Live Connected TV (Part 2): A Generational Pick-and-Shovel Play
The streaming wars are raging, and investors are starting to sense the opportunity behind this exciting trend.
Netflix Inc. (NASDAQ: NFLX), Walt Disney Co.'s (NYSE: DIS) Disney Plus, Hulu, Apple Inc.'s (NASDAQ: AAPL) Apple TV Plus, Comcast Corp.'s (NASDAQ: CMCSA) Peacock, and Viacom's (NASDAQ: VIAC) CBS All Access are just a few of the many connected TV (CTV) services vying for supremacy.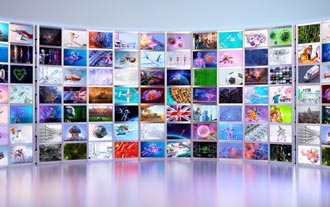 Will Disney Plus take away business from Netflix? Will Apple put more weight behind Apple TV Plus? Does Comcast go all in on Peacock? I admit, I would like to know the answer to these questions, but without a crystal ball, no one can tell the future. But one thing I do know is that CTV is here to stay. It has been made clear by the companies I've just listed.
One company that I see profiting no matter who wins the streaming war is Trade Desk Inc. (NASDAQ: TTD).
See, almost every business in the world needs to advertise to sell their products. It's everywhere, from billboards to our social media stream, and from newspapers to TV. Everywhere we turn, we are likely to see advertisements, so it's no wonder $1.4 trillion was spent last year on advertising and marketing globally. In fact, every time you sit down to watch 30 minutes of TV, you get roughly six to seven minutes of commercials. That means 20% of your time is spent watching commercials that companies are paying a lot for and will continue to do so as a preferred way of advertising. Just imagine, during the Super Bowl, advertisers are spending an average of $5 million per ad.
This all adds up to an astounding $230 billion spent a year of TV advertising according to IDC.